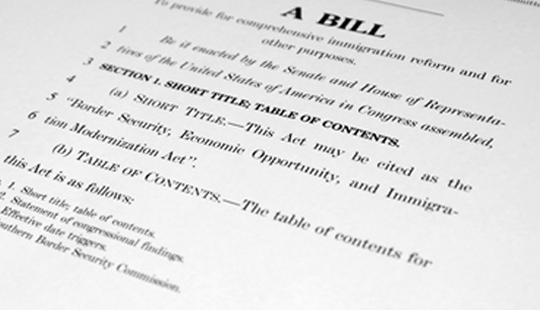 In the past few weeks, immigration reform has come back into the limelight on Capitol Hill. The post election climate is such that immigration is a priority for both Republicans and Democrats. President Obama made it clear last week during his State of the Union address that he expected a comprehensive bill on his desk in just a few months, not in a year or two. Though there is no comprehensive reform bill as yet, lawmakers have started drawing the battle lines around issues such as border protection and the path to legal residency for the thousands of undocumented immigrants who already live in this country.
A few lawmakers, however, are looking at another side of the issue as well. As the President outlined in both his immigration reform proposal and the State of the Union address, comprehensive reform must include high skilled workers, many of whom work at startups. Take for example the stories of Fabien Beckers and Rutul Dave highlighted in the Wall Street Journal last week. Beckers, who co-founded Morpheus Medical, a company that creates 3D models of soft tissue from MRI readings, struggled to find funding for his startup because he could not get an H-1B visa (the visa category for temporary workers). As a co-founder, he was not technically employed by the company, therefore he did not qualify for the employer-tied H-1B visa. Rutul Dave, co-founder of Bright Funds, was sponsored by Cisco and unable to start his own company until his green card came through.
Among startup founders, stories like these are not unusual. According to a recent study, immigrants are almost twice as likely to start a company than American workers. In fact, nearly a quarter of the engineering and technology companies founded in the U.S. between 2006 and 2012 had at least one key founder who was foreign-born. In 2012, these companies employed roughly 560,000 workers and generated $63 billion in sales. However, immigration laws are such that we are still sending U.S. educated STEM (Science, Technology, Engineering, and Mathematics) graduates back to their native countries because of visa caps.
Here's a look at the various proposals circulating right now that are aiming to address these issues:
The White House proposal:
The only comprehensive proposal in consideration right now has come from the White House. There is no legislative text, but rather, an outline that lays out the Administration's goals.
The President's proposal specifically creates a new visa category for entrepreneurs who are financed by U.S. investors or U.S. customers. If the company grows, this startup visa allows them to stay in the U.S. permanently. For those who receive advanced STEM degrees in the U.S., the President's outline calls to "staple" a green card to their diploma once they find employment. Though these masters and doctoral students will undoubtedly contribute to the American economy, this plan may not help startups hire talent who choose to enter the job market after completing a bachelors degree.
The Senate's solutions - Startup Act 3.0 and I-Squared Act:
In addition to the President's proposal, friends of the startup community have introduced legislation to fill the void, including the Startup Act 3.0 and the Innovation Immigration Act (I-Squared Act).
The Startup Act 3.0, introduced by Senators Moran, Warner, Coons, and Blunt, creates a new visa category for startups. The bill creates 75,000 entrepreneur visas for entrepreneurs who secure $100,000 in VC funding and already have an employer-based H1-B visa or any student F-1 visa. The Startup Act also introduces a new visa category for STEM masters and PhD graduates by creating 50,000 new STEM visas. For the Entrepreneur visa, the individual must have completed college, but the Entrepreneur visa does not require a masters in a STEM field. Though skilled founders will have to find some way to get here before qualifying for this entrepreneur visa, their educational background will not be limiting, as it was in the previous version of this bill.
The key takeaway here for startups is that a foreign founder cannot move to the U.S. just to start a business. For someone like Fabien, who graduated from an American university, the Entrepreneur visa would have made his immigration process easier. But the act doesn't grant a visa to an entrepreneur who wants to move to the U.S. to start a business that employs Americans -- and who has already received VC funding -- simply because she is currently outside the states.
The I-Squared Act, which was introduced by Senators Coons, Hatch, Klobucher, and Rubio, handles the backlog of visa requests a little differently. Instead of creating a new visa category to address the needs of startups and high-skilled workers, it increases the cap for employer-based H-1B visas from 65,000 to 115,000. It goes even further in reducing the backlog by tying the number of available visas to market demand. This system is less limiting -- H-1B visas are reserved for college graduates in any field, as long as they can prove that their skills are needed by an employer.
In terms of startup founders, the I-Squared Act relies heavily on changes to green card policy. It exempts STEM masters and PhD. graduates from the green card caps, allowing highly educated STEM workers to pursue their own startup dreams. For example, this could have made it easier for Rutul to start his company years ago, rather than having to wait for his green card.
Both the I-Squared Act and the Startup Act 3.0 eliminate the per country-cap on employment based visas, making it easier to recruit top talent from any country. The key difference with the I-Squared Act is that when the technology economy is booming, as it is now, and the demand for technical talent is high, more visas would be allocated.
What does it all mean?
None of the proposals do enough on their own to champion the needs of startups, though all have components that are key. There are two key needs that should be addressed by any high-skilled immigration proposal: First, we must make it easier for entrepreneurs who want to come to this country to start a business and create new jobs. The Startup Act 3.0 addresses this problem by creating a new visa category, but requires that recipients already have another employment or student visa. The second need is the ability to hire the best and the brightest talent, no matter where they are from. Increasing the H1-B visa cap is the best way to do just that, and the I-Squared Act addresses this need through it's market-based approach.
However a few questions remain: What of those founders whose first venture fails? Take for example Twitter, which started as a taxi dispatch service. In a culture that values and forgives failure, where 'pivoting' a business venture is the norm, and where second opportunities are part of our founding ethos, entrepreneurs need time as much as they need money-- a need that none of the bills or proposals addresses. If a brilliant computer scientist gets a visa to start a company that isn't successful, she isn't provided a chance to innovate and try again--and we lose another talented inventor. Both of these bills and the President's proposal attempt to quell the demand for technical talent, relying heavily on masters and doctoral students to fill the ranks at startups. But when was the last time you met a software engineer at a startup with a Ph.D.?
Let's face it, startups want smart people - it doesn't matter if they have a STEM degree, where they were educated, or what their nationality is -- as long as they are passionate about the business, and have the talent to help an enterprise grow.