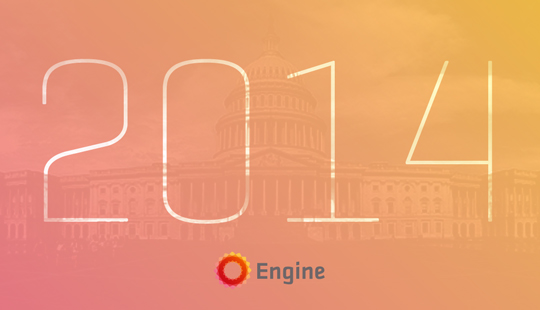 This post is one in a series of reports on significant issues for startups in 2014. In the past year, the startup community's voice helped drive notable debates in tech and entrepreneurship policy, but many of the tech world's policy goals in 2014, from net neutrality to patent reform, remain unfulfilled. Stay tuned for more year-end updates and continue to watch this space in 2015 as we follow the policy issues most affecting the startup community.
There's widespread agreement among policymakers and citizens alike that our immigration system is broken. But, despite this near-universal recognition that bringing foreign entrepreneurs to the U.S. to start businesses will improve our economy and create jobs, immigration reform remains elusive. Though the House has staunchly refused to consider moving immigration reform legislation, the President took action in November, issuing an Executive Order that takes small but important steps in the right direction. The President's Executive Order expands immigration options for foreign-born entrepreneurs and makes it easier for high-skilled workers awaiting Lawful Permanent Resident status to change jobs. While these changes are important, the kind of reform that will more fully address the challenges of our country's immigrant system remains within the purview of Congress.
Until Congress takes on the issue, an outdated immigration system continues to be one of the greatest threats to American entrepreneurship and business growth. Demand for high-skilled employees in the tech industry remains higher than ever and continues to build. And while American universities educate thousands of foreign-born students in STEM fields every year, these students often have few legal employment options in the U.S. and end up returning to their home countries. The President's plan addresses this problem by seeking to expand the Optional Practical Training program, which permits foreign-born STEM graduates to stay and work in the U.S. Ultimately, however, the OPT program is temporary, and more action needs to be taken in order to allow these talented, U.S. educated STEM graduates to work and build companies in the U.S.
Those high-skilled workers who are eligible to stay in the U.S. often do so through H-1B visas, which have myriad complications and limitations. For one, the supply pool is capped at 85,000, and they're only issued once a year via lottery. Companies simply can't rely on winning this lottery, especially startups that "live and die by speed," as the CTO of Zenefits explained. Further, visa-holders are barred from switching employers, even if they're afforded better opportunity at another company. This particular restriction was addressed in the President's recent executive action, which plans to allow highly skilled workers and their spouses to obtain a portable work authorization as they wait to acquire more permanent residential status. However, the executive action did not raise the visa supply, a policy request that's been a priority for the tech community for years. Only legislative reform will increase the woefully inadequate supply of visas for high-skilled foreign workers.
When it comes to high-skilled workers, our immigration system's shortcomings may be most devastating for the aspiring entrepreneurs it impedes. The economic case for creating opportunities for immigrant entrepreneurs couldn't be clearer: a Kauffman study found that immigrants are nearly twice as likely to start a business than native-born Americans.
Yet, under the current rules, a potential founder cannot leave her company in pursuit of starting her own business. The President's Executive Order also proposes to mitigate this deficiency by creating special immigration rules for founders who can prove they've created jobs, attained investment, or generated revenue. We're excited to see the details of this new immigration pathway released in the next year and hope promising entrepreneurs can take advantage of the opportunity. Nonetheless, the plan falls short of establishing a true founder's visa.
More countries around the globe are creating attractive opportunities for entrepreneurs seeking a home to build their businesses. Canada, Chile, and New Zealand are just a few of the places welcoming entrepreneurs with legal residency status and even funding through "startup visas." While the United States Congress stands idle, entrepreneurs are packing up and moving elsewhere. As Reddit founder Alexis Ohanian told CNNMoney, "The next Stripe, or the next Google is one annoying visa application away from just starting in Canada."
Looking to 2015, the new Republican Congress seems eager to undo the President's Executive Order, but whether lawmakers will simply attempt to reverse the President's actions or actually work to fix the many flaws with our immigration system remains to be seen. While comprehensive immigration reform remains a political third rail among Republicans—particularly in light of the 2016 presidential election—it is possible that lawmakers may attempt a piecemeal approach to immigration reform that addresses problems with the high-skilled immigration system, leaving more politically fraught questions relating to undocumented immigrants untouched. Whether comprehensive reform or an issue-specific approach is more achievable, immigration reform must be a policy priority for all members of Congress in 2015 if we are to maintain our position as the best place in the world for entrepreneurs to start new and innovative businesses.