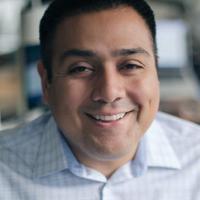 Throughout the week, we're posting stories from veterans who've made strides in the technology industry on our blog and on Medium. You can also find them all here and follow the conversation about how to support more veterans in this growing industry at #VetsWhoTech.
After five years on active duty with deployments to both Iraq and Afghanistan, Isaac Elias left the U.S. Army in 2009. As he transitioned out of the military, he found that a large portion of existing career development resources were available through formal partnerships with traditional industry, like manufacturing or logistics. "Those roles just didn't make sense for me," says Isaac, who realized during his deployment to Iraq as a human intelligence coordinator that he thrived in small, agile teams.
So Isaac decided to use his GI benefits to attend college. He was able to finish a degree in business administration at California State University in just three years, and in 2012 he began looking for a job. During school, Isaac had started teaching himself programming and coding skills. He had been inspired by professors who extolled how technological advances were dramatically changing business. However, from November 2012 to April 2013, Isaac tried to find a job and couldn't get any traction. "I had a business degree, but I wasn't getting anywhere with that. Then I had these self-taught technical skills that I was passionate about, but no formal training."
In the spring of 2013, Isaac learned about General Assembly (GA), an educational institution that offers a variety of technology-focused classes. He applied and was accepted into their 12-week full-time Web Development Immersive (WDI) program—an opportunity to receive that formal technical training he lacked. With three young children at home, Isaac knew the program would be a commitment, in terms of both time and money.
Isaac accumulated $25,000 in debt on four separate credit cards to pay for the program and his family's living expenses while he was in school—a debt that Isaac is still repaying two years later. "It was a big commitment, and I wasn't sure that I could manage the whole thing. But it was absolutely worth it."
Following graduation from the GA program, Isaac was hired as a full-stack developer at a Pleasanton, CA based startup, Milyoni, which builds tools to make video watching and sharing more social. Since then, he has held positions at two other companies, moving into higher-paying, more advanced roles each time. His current job as a software engineer for True Link Financial pays almost three times what he could have made when he was looking for a job with just his business degree. And on top of that, he is frequently contacted by recruiters.
Isaac is proud of how far he's come. He should be. But he noted how he felt like he had to fight and break down barriers to achieve these goals. "People who have been in war zones have skills that are applicable to startup world: we are dedicated, disciplined, entrepreneurial. We know how to build and manage teams. We take assignments and commitments seriously. We know how to deal with less-than-ideal surroundings, fatigue, hunger, and stress. We just need the right training and the relationships to get into that world. It shouldn't be that hard."